FIND US
The activities of the Ateliers d'ethnomusicologie are divided into two main buildings: the first is located at 10 rue de Montbrillant. The second is located at 44 rue des Maraîchers. Both of them mainly host classes and offer rehearsal spaces. Note: These spaces are exclusively intended for the use of teachers in our classes & workshops, referenced on this site.
Ateliers d'ethnomusicologie organize public events, mostly in other Geneva cultural institutions, such as the Alhambra, the AMR & the MEG. Our Open House Day (Portes ouvertes) is held in the courtyard of the Montbrillant building, once a year.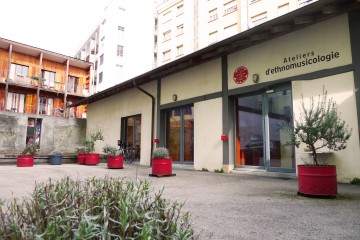 ADEM MONTBRILLANT
The offices of the Ateliers d'ethnomusicologie and part of their classes are located at 10, rue de Montbrillant, 1201 Geneva, just behind the Cornavin station. The two dance halls and the music room are on the ground floor. The offices are on the first floor. The courtyard of the Montbrillant building is accessible from the rue de Montbrillant.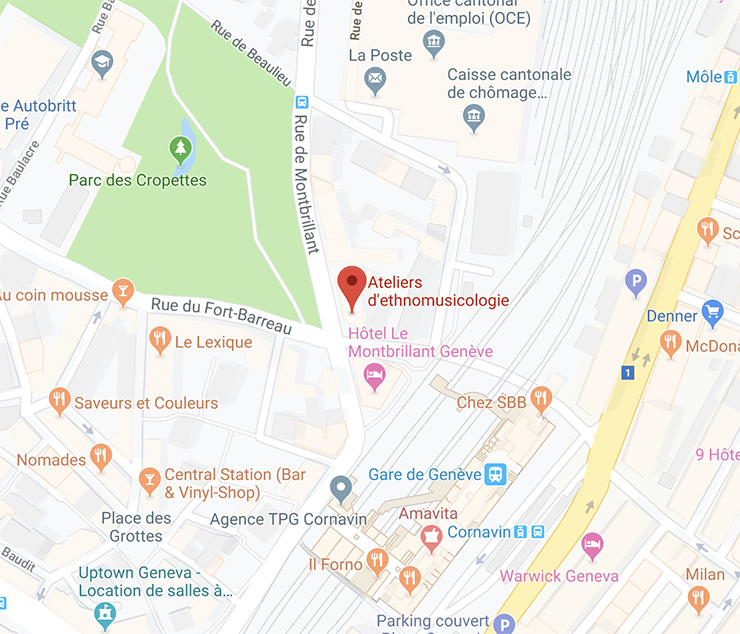 ACCeS
PUBLIC TRANSPORT
Nearby tpg Stations
Gare Cornavin
NEARBY CAR PARKING
Warning: No possibility of parking in our courtyard
ADEM MARAÎCHERS
Other activities of the association take place at 44 Rue de Maraîchers 1205 in Geneva. You enter the building via a door opening inwards. Then you have to go down a few steps to reach the ground floor, where there are two dance halls, a music room, a public toilet and a vestiaire.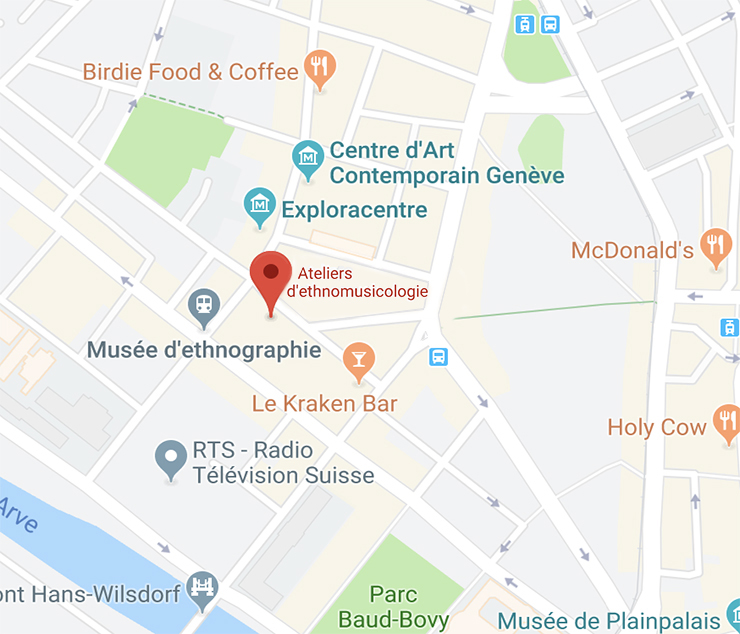 ACCeS
PUBLIC TRANSPORT
Nearby tpg Stations

Bus
Bus 2 & 19 arrêt Musée d'ethnographie
Bus 1 arrêt École-Médecine et Plainpalais
Bus 35 arrêt École-Médecine


Tram
Tram 12 & 18 arrêt Plainpalais
Tram 15 arrêt Uni Mail et Plainpalais
NEARBY CAR PARKING
Parking de Plainpalais, bd Georges-Favon 46

Parking Uni Mail, bd Carl-Vogt 102