About the classes
INFORMATION COVID-19
Afin de prévenir la propagation du virus, nous avons mis en place des mesures et des règles régissant l'usage de nos centres musicaux. Nous vous invitons à les respecter, et à les faire respecter, dans l'intérêt de toutes et tous.
Nous avons regroupé toutes les informations relatives à ces mesures sur une page spéciale COVID 19, que nous vous invitons à consulter régulièrement. Cette page fera l'objet d'une mise à jour au fil de l'évolution de la situation sanitaire et des directives en découlant.
***
SUPPORTS DE COMMUNICATION À TÉLÉCHARGER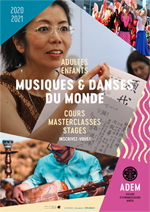 Affichette Cours 2020-21 (PDF)

OUR COURSES IN A NUTSCHELL
Geneva is one of the rare cities where such a vast number of world music activities are available to be learnt. The Ateliers d'ethnomusicologie is not a music and dance school in the traditional sense, but rather a base for qualified teachers of the various music and dance fields. In this respect, the Ateliers d'ethnomusicologie has played a pioneering role since its foundation by offering a solid framework to a number of artists in which to develop their art. Whether classes are run on a private or group basis, each one functions in an autonomous fashion in regards to teaching methods and financial arrangements.
Classes generally take place weekly and fees are paid directly to the teacher, either each month or each trimester. However, we do ask that students join the association (annual membership: CHF 50.-; Friends of the Ateliers: CHF 100.-).
You will find the list of our classes (in french) here. This programme was established in conjunction with information provided by teachers, so it is possible there could be modifications during the year.